Am I Taking Enough Medicine?
You may not be taking enough medicine if you have a condition that can be appropriately, effectively, and safely treated with a medicine that you are not receiving. For older adults, under-treatment is just as big a problem as taking medicines you might not need. Even though there is strong scientific evidence that certain medicines are effective in preventing the progression of disease, preserving functional ability, and reducing death, older persons who may benefit often do not receive them.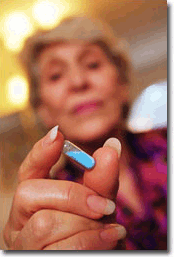 Some examples of under-treatment include:
Failure to use aspirin following a heart attack
Failure to use a class of medicines called angiotensin-converting enzyme (ACE) inhibitors in people with chronic heart failure
Failure to use Coumadin® (warfarin) in people with atrial fibrillation (an abnormal heart rhythm).
Older adults are also more likely to be under-treated for osteoporosis (in men and women), cancer pain, diabetes, and asthma.
Decisions about the use of medicines for older adults with several diseases or conditions involves weighing the possible benefits versus potential harm within the context of a person's health priorities. It is important to take an active role in decisions about your treatment. Don't be afraid to ask questions and talk about your concerns. By taking time to ask questions now, you may avoid problems later.
You may want to write down questions to ask at your next visit to the doctor. Bring a friend or family member with you when you visit your doctor. Talking over your options with someone you trust can help you make better choices.
For information about common diseases and conditions that may be untreated or undertreated, see the links below.
Depression

Heart Failure

High Blood Pressure

High Cholesterol

Incontinence

Influenza Vaccine (Flu Shot)

Osteoporosis

Pain (Persistent)

Pneumococcal Pneumonia Vaccine

Shingles Vaccine

Sleep (Insomnia)

Stroke Prevention