Am I Taking Too Many Medicines?
"Any symptom in an elderly patient should be considered a drug side effect until proved otherwise."
Jerry Gurwitz, MD,
Chief, Division of Geriatric Medicine, University of Massachusetts Medical School
How many medicines are "too many?"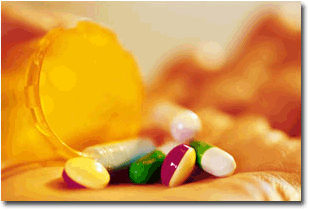 It is not the actual number of medicines that is important, but whether each medicine is needed and useful. Even a person taking one or two medicines could be taking too many if a medicine is not helping. Since nearly all medicines have a risk of causing some type of harm or side effects, medicine should only be taken if it is actually helping a problem. When a person is taking more medicines than is actually needed, this is referred to as "polypharmacy."
Why is it bad to take too many medicines?
The more medicines a person takes, the more likely is the risk of harm from drug interactions and adverse drug effects. Medicines are also expensive, and most people have to pay a portion or all of the cost of the medicine. The general rule is that people should only take as many medicines as are needed for the medical problems they have.
How can an older adult end up on too many medicines?
Older adults often have multiple medical problems and see several doctors. Sometimes, different doctors may prescribe the same medicine or one that is similar to a medicine that the person is already taking. This can happen when no one is looking at the complete list of all the medicines a person is taking, including over-the-counter medicines and herbal products or supplements.
After Susan had a heart attack, her cardiologist put her on Toprol-XL® (metoprolol succinate) to help reduce her risk of having another heart attack in the future. Susan also sees a neurologist for her migraine headaches. Her neurologist decided to change her headache medicine and started her on Tenormin® (atenolol) to help reduce the number of headaches she was having. Unfortunately, these two medicines are very similar to one another and should not be used together. Susan developed a very low heart rate and blood pressure from taking the medicines together. After she fainted at home one evening, her husband took her to the emergency room, where the problem was discovered.
It is also possible that an older adult will have a temporary medical problem, and the medication to treat that problem continues to be taken after the problem is solved. This can especially happen when an older adult is discharged from the hospital. A medicine that was started in the hospital may be continued after the patient is discharged, even though the medical reason for the medicine has gone away. Get more information about medicine problems during transitions of care.
After he was involved in a motor vehicle accident, Fred had emergency surgery at the hospital and recuperated in the surgical intensive care unit (SICU). While in the SICU, he was started on Protonix® (pantoprazole) to help prevent gastrointestinal complications following the surgery. He was continued on the Protonix while in the hospital and then given a prescription to continue taking the Protonix after being discharged. Six months later, Fred is still taking the Protonix even though he has long since recovered from the surgery and no longer needs the medicine.
Finally, older adults can fall victim to the "prescribing cascade." What happens here is that an older adult develops a new symptom that is actually a side effect of a medicine that the person is taking. But often the new symptom ends up being treated with another medicine because the real source of the problem is not recognized. The new medicine might cause a different symptom, which ends up being treated with a third medicine. And so on.
Roberta was recently diagnosed with Alzheimer's disease and started on Aricept® (donepezil). About a week or two after starting Aricept®, Roberta began having frequent urination. After not making it to the bathroom in time once or twice, she finally went to see the doctor. She started Roberta on Ditropan XL® for her overactive bladder. A few days after starting the Ditropan XL®, Roberta became constipated and bought some Ex-Lax® to take.
Poor Roberta was the victim of the prescribing cascade. The Aricept® caused the overactive bladder, which led to the use of Ditropan XL®. The Ditropan XL® caused constipation, which led Roberta to use Ex-Lax®.
How can an older adult tell if too many medicines are being taken?
Prescription medicines must be prescribed by a doctor or other health professional, such as a dentist or podiatrist. When medicines are prescribed, the doctor considers the benefit of the medicine in helping your medical problem, along with the potential for harm from side effects of the medicine.
In the case of older adults who take a number of medicines, it is important for the primary care doctor or a pharmacist to periodically review all of the medicines the person is taking. This includes over-the-counter medicines and herbal products or nutritional supplements. This review is recommended to be done at least once per year.
For links to more information about polypharmacy, check this Web site.
Related Pages: